Comics Frankfurt's History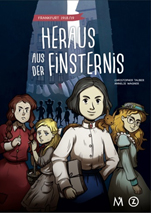 "Frankfurt 1918 – Out of the Darkness", volume 2
Parallel to its exhibition "Opposed! Agreed? - Revolution. Making. History", the Young Museum Frankfurt has published a graphic novel titled "1918 - Out of the Darkness ". The comic highlights the life and activism of women in Frankfurt at the time of the 1918 revolution. Narrated from the point of view of four girls, it brings us closer to the lives of women from different social classes. The girls stand up to the male domination of boy gangs in their neighbourhoods. They come into contact with women's rights activists influential to the movement and politics, set up a club, think up slogans and hold something close to a demonstration.
"Frankfurt 1918 – Out of the darkness", volume 2. For children age 8 and up; German and English Edition; Editor: Susanne Gesser, Young Museum Frankfurt, drawings: Annelie Wagner, text: Christopher Tauber, hardcover, Zwerchfell-Verlag, Frankfurt am Main, 2018, 44 pp., 12 €, ISBN number: 978-3-943547-41-2 (D); 978-3-943547-42-9 (S)

"Frankfurt 1742. The World's Biggest Celebration", volume 1
In October 2017 the first volume of the comic series already appeared: "Frankfurt 1742. The World's Greatest Celebration ". At the heart of the action in this volume is the coronation of 1742 in Frankfurt. It tells the exciting story of Leo, a Jewish boy who wants to be at the coronation, and of Catharina and Lucia, who with their cunning and courage help him to realize his dream.
For children age 8 and up. German and English Edition; Editor: Susanne Gesser, Young Museum Frankfurt, drawings: Annelie Wagner, text: Christopher Tauber, hardcover, Zwerchfell-Verlag, Frankfurt am Main, 2017, 40 p., 10 €, ISBN number: 978-3-943547-32-0 (D); 978-3-943547-33-7 (S)