Hands On! Conference in Frankfurt: 
All inclusive! Museums as places for ALL children, 2019
The conference focused on museums' roles as places of social inclusion. We discussed how to cater to specific needs of diverse audiences and took a closer look at how children's museums use collections to impart knowledge on cultural heritage. Last but not least, we explored innovative educational formats, especially those connected to digital learning.
21st Century Children
As part of our 21st Century Children project, which is generously supported by the Creative Europe programme of the European Union, we were launching our children in museums industry evaluation during this conference.Throughout the conference participants helped us map and evaluate our sector in order to brand museums as places for learning. An extra day was added to the conference in order to provide in-depth training sessions dedicated to collecting and defining the unique roles and functions children-dedicated museum spaces can take on in providing relevant means of education tailored to the needs of a new generation.
- Operational Enquiry: 22-26 October. Online version available here
- 21st century brainstorming: 22-26 October
- Workshop criteria of quality of children-focused museum work: 25 October 1-5pm
- Training sessions: Children's Museums of the 21st Century, World Café & dedicated keynotes.
- Children in Museums Award ceremony: showcasing and honoring best practice examples to political stakeholders and a wider public.
Conference focus topics
Diverse audience(s) and social inclusion
Today's museum audiences are highly diverse: intergenerational, transcultural, from a variety of social backgrounds, with (or without) various forms of handicaps. As keepers of cultural heritage, we are responsible for providing cultural education for everybody! How can we develop exhibitions and programs for everyone? How can we design accessible exhibitions and museums? How can we be "all-inclusive"?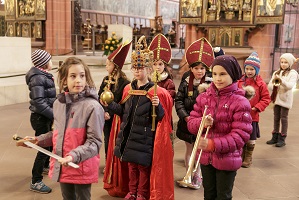 Collection-based cultural education
Museums collect artifacts and objects of historical or cultural significance. Using these collections, cultural education aims to help audiences to access material and nonmaterial culture. How do museums and children's museums succeed in using objects to render cultural heritage more tangible for children? How can object-based exhibitions designed for general museum audiences become more attractive for families and children
New formats of cultural education: digital learning and beyond
Following the digital turn, digital learning, gamification and changed expectations of our audiences have shaped and transformed our field of work. How can digital learning be used as a tool to design exhibitions and educational programs for children? How can well-known forms of education, be modified and adapted to fit new needs? We would like to discuss new, avant-garde creative formats and methods of cultural education.
Conference 2019 schedule      Conference Booklet      View conference videos