Back to top
Follow-up: Frankfurt and Nazism
School, play, family life, growing up and experiences during the Second World War: Based on the daily and family life of young Frankfurt residents, the exhibition provides insights into mindsets, degrees of freedom to manoeuvre, and social structures during the Nazi era. It focuses on the diversity of perspectives and experiences of children and young people, told through interviews with contemporary witnesses, biographical documents and objects. The effects of the Nazi era to the present day are addressed in conversations with people from Frankfurt, and visitors are encouraged to examine their own points of view.
The exhibition is suitable for people age 10 and up. A pamphlet (in German only) is available to help accompanying adult visit the exhibition and engage with the topic, and to encourage intergenerational conversations.
As of 2 April, masks are no longer mandatory but are still encouraged! Keeping distance to other visitors and staff is greatly appreciated.
Visit the exhibition virtually or watch a clip on YouTube (english subtitle available in settings).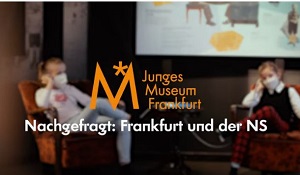 Opening hours:
Closed on Mondays
Tuesday - Sunday: 11 am - 6 pm
Admission:
Adults 8 € /reduced: 4 €
Free admission for everybody under 18
Groups by prior notification only!
Information and booking:
069/212-35154 (Mon-Fri 10 am - 4 pm)
besucherservice@historisches-museum-frankfurt.de